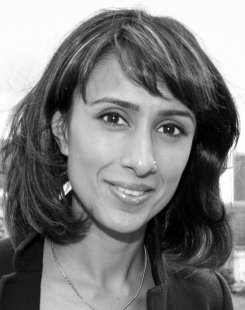 Anita Rani
Description: Northern: energetic, upbeat, friendly
Age range: 30s
Links: India on 4 Wheels
accents
Indian, London, Northern*, RP, Yorkshire*
biography
Anita, who speaks fluent Punjabi and Hindi, recently presented FOUR ROOMS on Channel 4 where she mediated between dealers and sellers with people who believe they had a valuable artefact to sell to four of the country's leading buyers.
Another assignment this year saw her drive half way round India in a two-part BBC documentary INDIA ON FOUR WHEELS. In this epic journey she traved west from Delhi to Chennai in an Indian-made 4x4 to discover how a booming car industry is helping fuel the country's economic growth.

Anita is a regular reporter and studio guest on the BBC 1 topical magazine programme THE ONE SHOW.